REVOLUTIONARY PEST CONTROL PRODUCTS & MOSQUITO CONTROL SYSTEMS EUROPE
Full coverage against mosquitoes and flies based on state-of-the-art technological systems: INZECTO Mosquito Trap, INZECTO Mosquito Chips, INZECTO Larvi-Saucers and the A-Mazing Fly Catcher.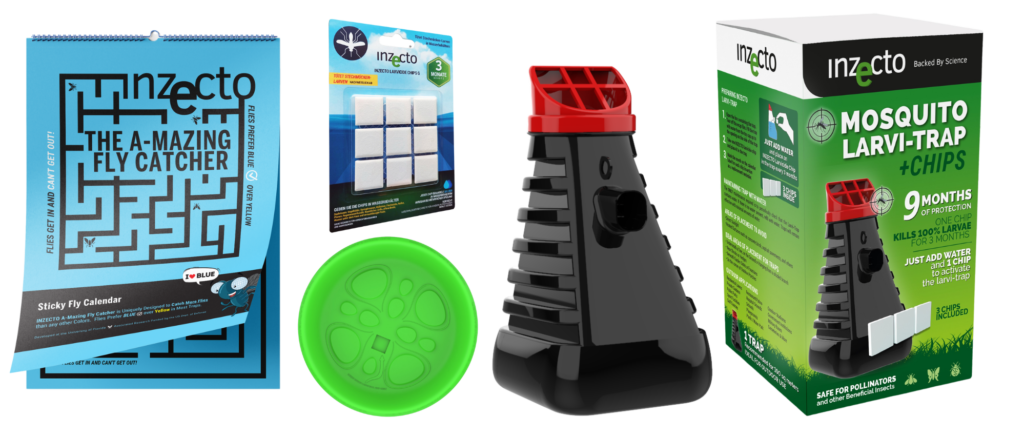 Professional Grade Pest Control Products Developed at the #1 Entomology Department in the World
THE UNIVERSITY OF FLORIDA

Available through Pest Control Providers and Select Online Outlets in EUROPE
GROUND BREAKING TECHNOLOGY
AWARD-WINNING & BACKED BY SCIENCE
INZECTO provides revolutionary, effective & eco-friendly pest control products and systems in EUROPE that are friendly for humans, the environment, pets, fish, and other beneficial insects.  Our next-generation, award-winning technology was invented & developed in association with the University of Florida & co-funded by the Pentagon to protect American deployed soldiers. 
Click to See Where

INZECTO Products are Available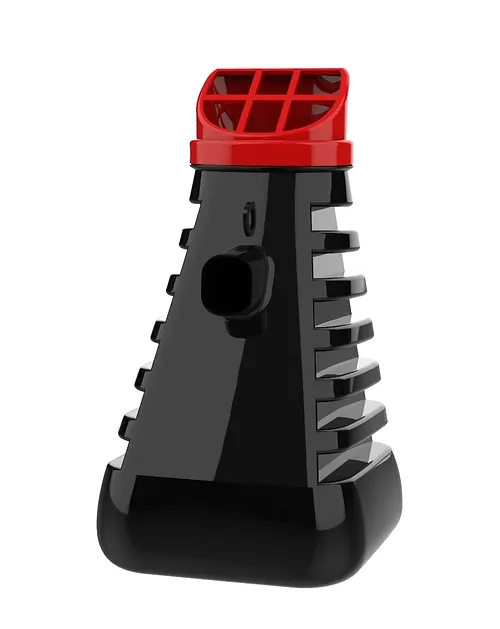 Fighting the world's most annoying and deadliest animal while protecting the environment is our #1 Goal. With years of research and testing under our belts, INZECTO products provide a human & animal-friendly way to control the mosquito population.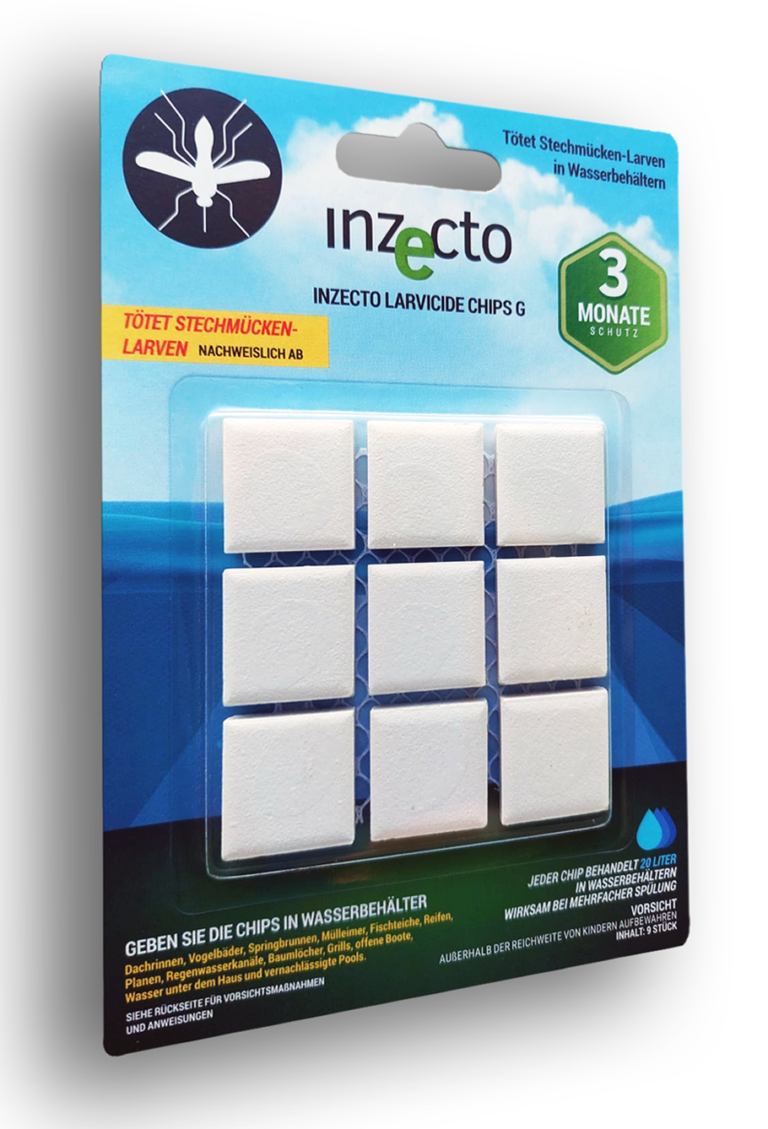 One INZECTO Mosquito Chip provides 3 Months of Protection in small water containers up to 20 Liters.  A Powerful Larvicidal Solution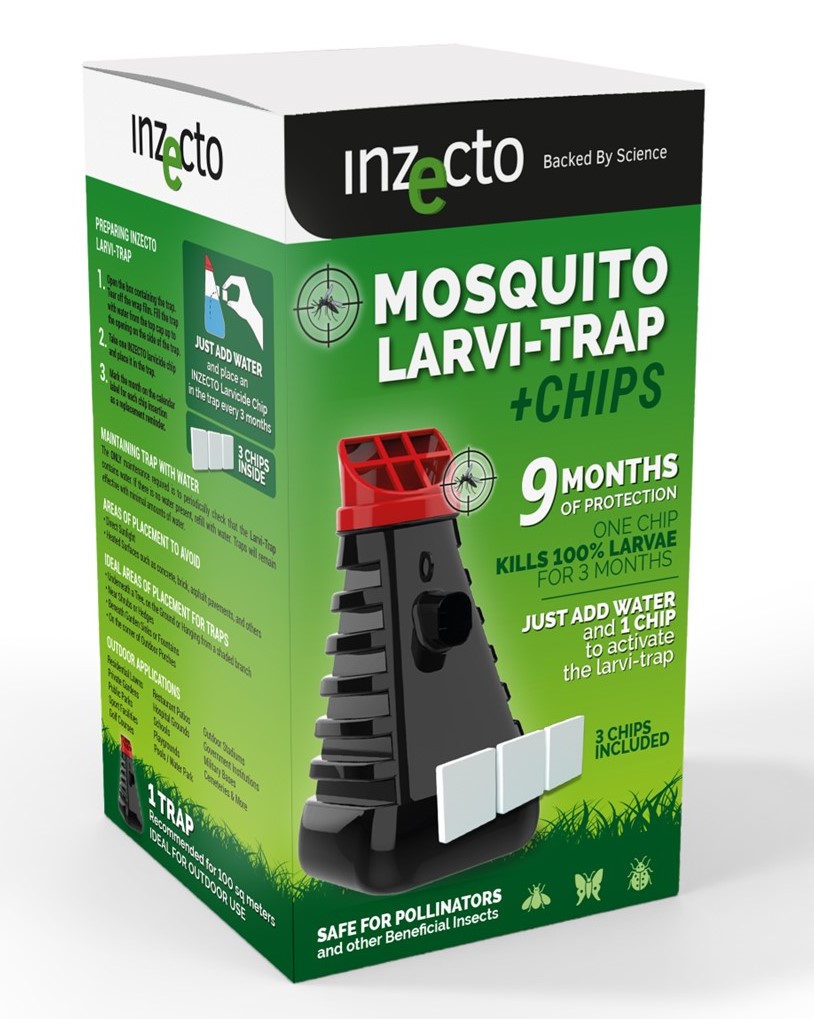 A Winning Combination to Eliminate 100% of Larvae! The Secret of the INZECTO Larvi-Trap lies in the design.  The shape and color attract the female mosquito to enter and lay her eggs.  The Addition of the INZECTO Mosquito Chip into the Trap slowly releases the larvicidal agent providing 3 Months of non-stop protection.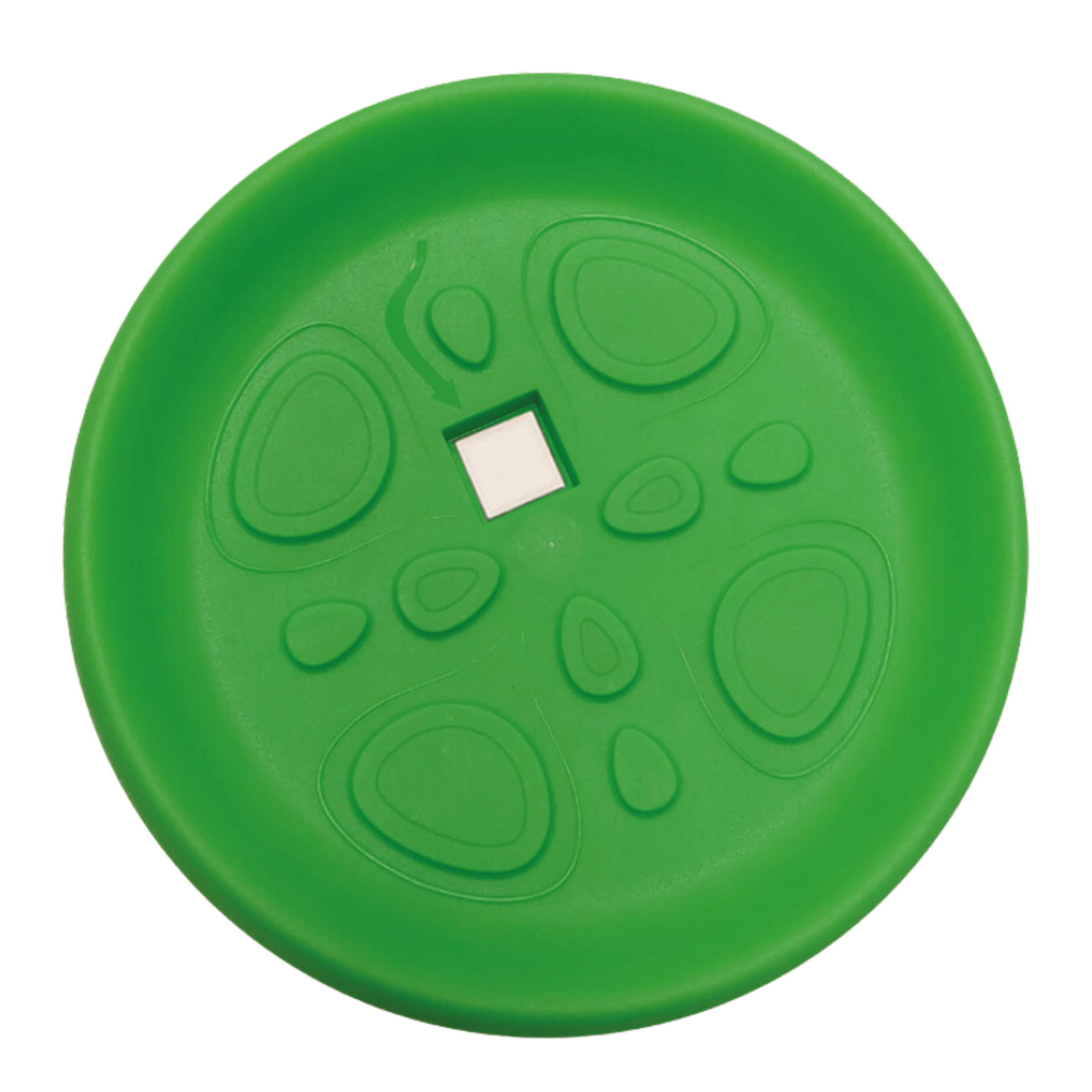 The INZECTO Larvi-Saucer is designed to treat the watering of flowering plants into a Mosquito Killing Trap.  Planting Pot Saucers are a common place for mosquitoes to breed.  By taking a saucer and adding an INZECTO Mosquito Chip you can effectively create a Trap for Mosquitoes from a source previously considered a breeding ground.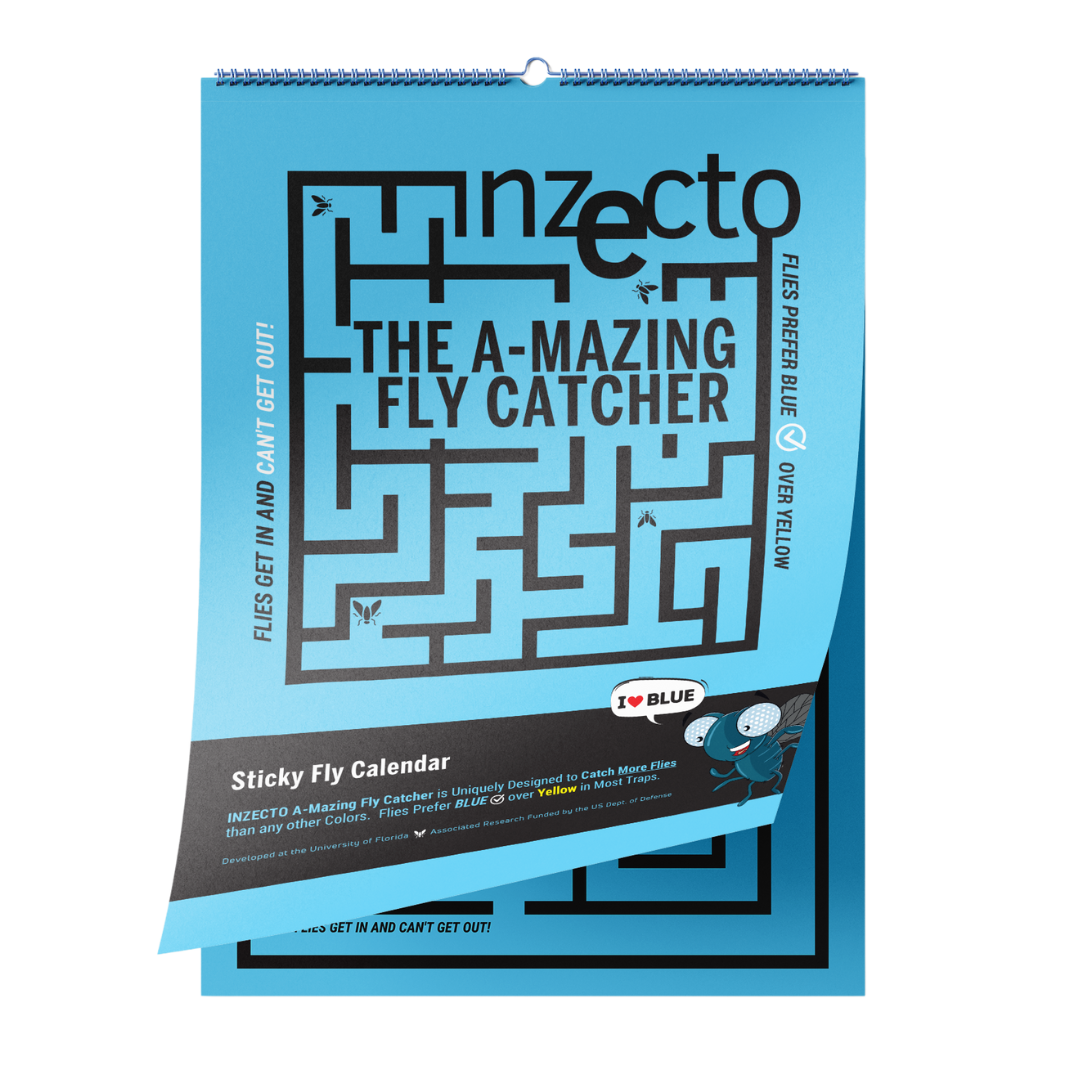 A-Mazing Fly Catcher is uniquely designed to catch more flies than any other colors. Flies prefer BLUE over Yellow traditional yellow products on the market.  
The A-Mazing Fly Catcher is 6x more effective than traditional fly traps.  Flies just can't resist Blue and Black Lines Combination! 
REVOLUTIONARY
DISEASE PROTECTION
Mosquitoes are the deadliest animals on the planet, killing 725,000 people every year
and transmit multiple dangerous diseases to humans, pets, and other animals.
Follow Us on Social Media

INZECTO Mosquito Trap Testimonials
So happy with the results we've experienced so far moving to INZECTO! We started slowly and then went full steam ahead…
Love it!!!
𝘾𝙖𝙡𝙫𝙞𝙣 𝘽𝙚𝙡𝙡𝙪𝙨, 𝙏𝙝𝙚 𝙋𝙚𝙨𝙩 𝘽𝙤𝙮𝙨
Broward County, Florida
So happy with the results we've experienced so far moving to INZECTO! We started slowly and then went full steam ahead…
Love it!!!
𝘾𝙖𝙡𝙫𝙞𝙣 𝘽𝙚𝙡𝙡𝙪𝙨, 𝙏𝙝𝙚 𝙋𝙚𝙨𝙩 𝘽𝙤𝙮𝙨
Broward County, Florida
Wanted to share my experience with test marketed INZECTO.
Excellent Results
Each Container is from each station at 90 Days Exactly
As you can see in Tampa, Florida, little water evaporation inside the trap for maintenance, but we are not in the summer months yet.  Experienced solid results and customer was happy.
I will be launching INZECTO Mosquito Traps May 1st to all my customers
Richard Dudkiewicz Jr., 𝙀𝙡𝙞𝙩𝙚 𝙋𝙚𝙨𝙩 𝙎𝙚𝙧𝙫𝙞𝙘𝙚𝙨 𝙤𝙛 𝙁𝙡𝙤𝙧𝙞𝙙𝙖Land O'
Lakes, Florida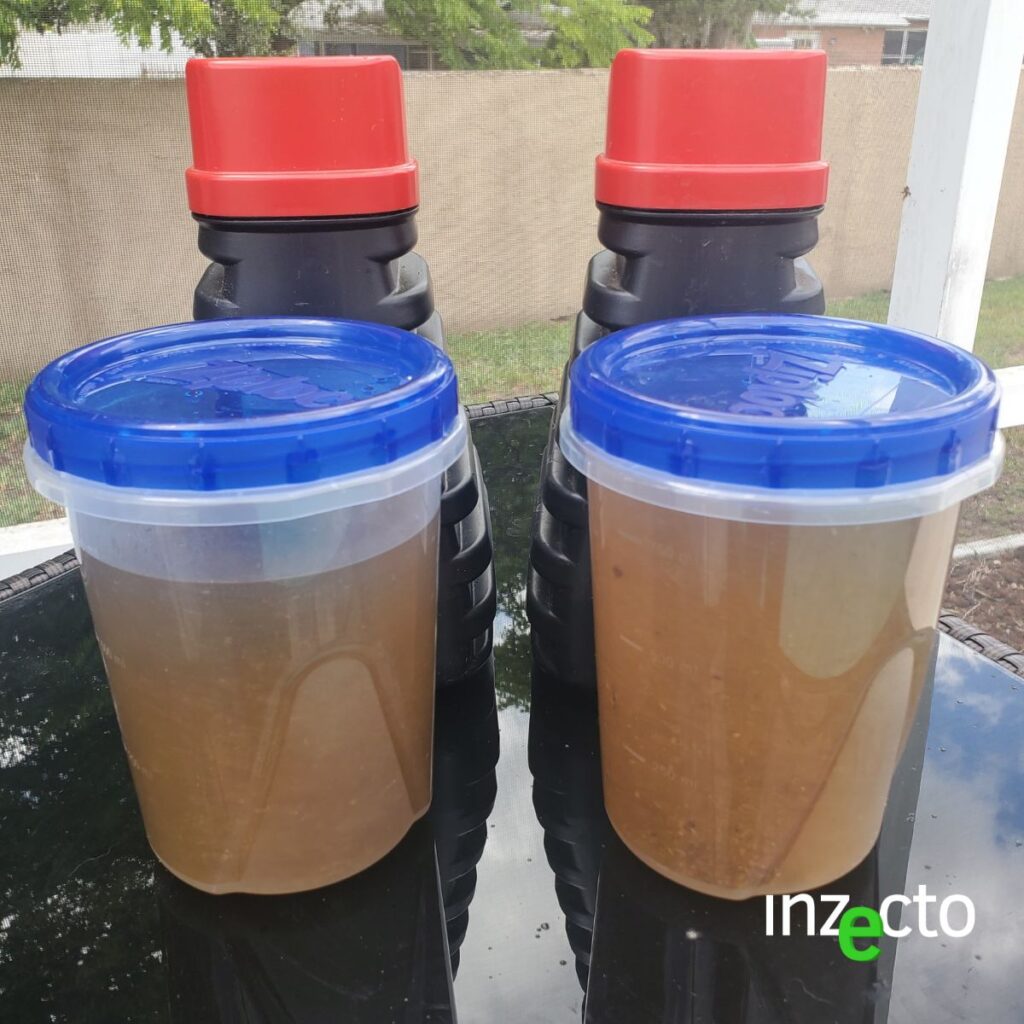 I started using INZECTO Mosquito traps in 2021 when they were first introduced to our industry. I love this product as it was invented to protect deployed American soldiers. My first thought was if it can protect those deployed, surely it would help out around my home and our customers. I put Inzecto traps around our pool area and back porch, I was impressed and so was my family. We always have a problem with mosquitoes, especially around the pool area, but wow what a difference it made. I highly recommend getting Inzecto Mosquito Traps today! 
Marty L Roberts, Rid-A-Bug Exterminating
Hamptonville North Carolina 
8 years in the pest control industry. I have searched for effective, environmentally friendly mosquito control that is affordable to the consumer. I found INZECTO in 2021 and had superb results. Cost-effective, friendly on the environment, and did not endure a bite while enjoying the outdoors during mosquito season.
Pest Control Professional – Nathaniel Taylor
We have significantly less complaints about mosquito activity since adding INZECTO Mosquito Traps to high mosquito activity areas. We typically have to fog the clubhouse, wedding area and driving range weekly due to mosquitoes and have not had request since adding traps. The traps are easy and effective to use.
David Levin, Superintendent, Palencia Golf Course,
St. Augustine, Florida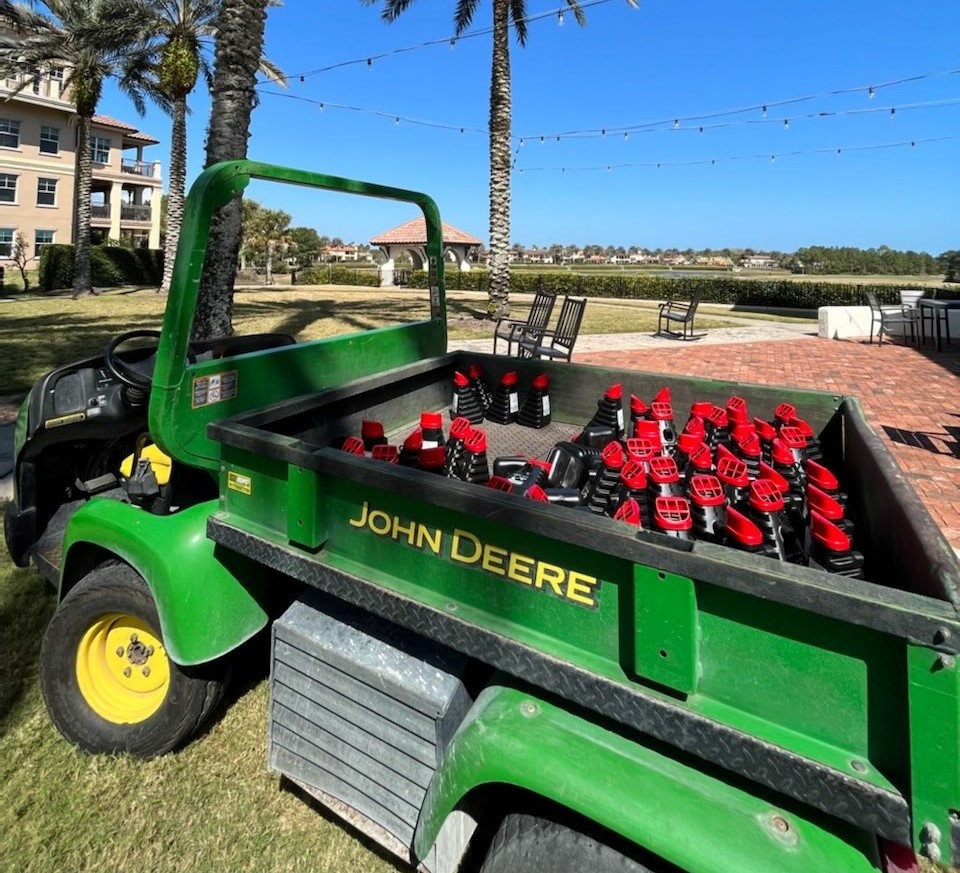 I'm on my second round of these traps. I'm using six at a time around the house/deck because the mosquitos are so bad here in Florida. The situation has definitely improved. I'm hoping as time goes on I'll be able to use less of them at a time – hopefully four. It's the best option I've found so far to get rid of these insects. I learned about INZECTO through a pest control company who was at my place for another reason.
Marty Williamson, Consumer
Florida
QUESTIONS?
CONTACT US TO GET STARTED.
Use the form below to contact us for any special requests, inquiries, questions or concerns