The 3 Best Home Mosquito Control Products and Tips for You and Your Family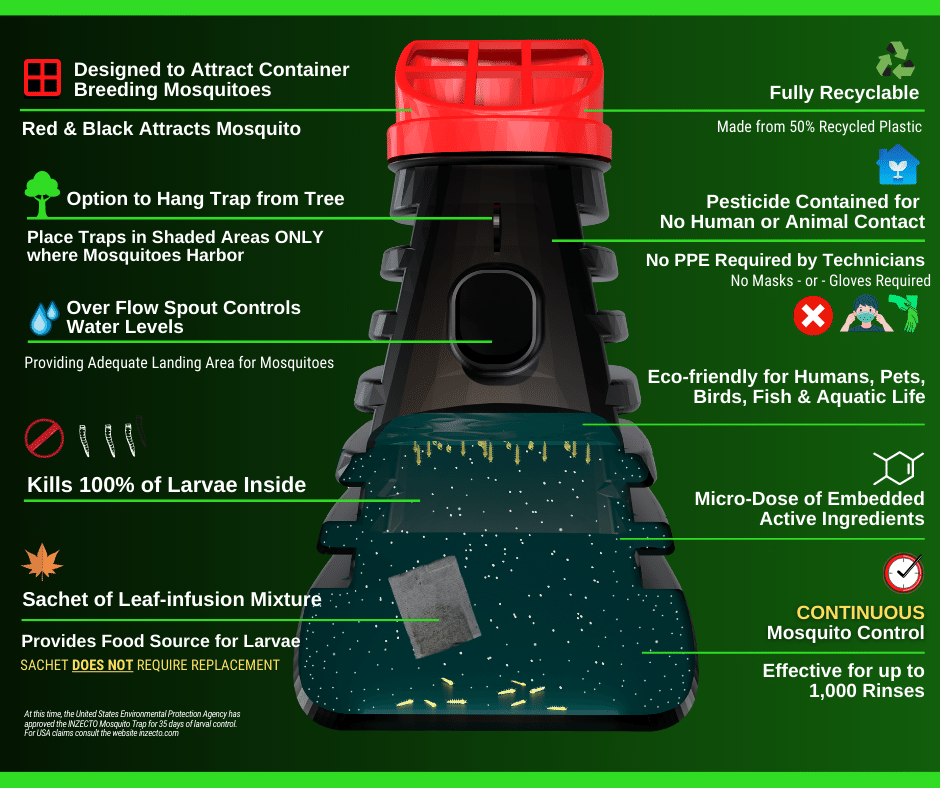 When the mosquitoes are active, you want to do everything you can do protect you and your family. Check out these home mosquito products and tips for help!
Every year, disease-transmitting mosquitoes kill more than 725,000 people. This alone places the mosquito at the very top of the world's deadliest animals list, putting creatures like sharks and lions to shame.
Mosquitoes thrive in all fifty U.S. states, wreaking havoc on our outdoor adventures and porch parties. With the peak of mosquito season fast approaching, it's never been more crucial to protect your friends and family by arming up with home mosquito control.
If you're looking for ways to control insect populations and deadly vectors that can carry dangerous diseases, take a look at the top 3 mosquito control products.
1. INZECTO Mosquito Trap
Does your family spend hours upon hours playing in the yard during the warm spring and summer months? If so, the INZECTO Mosquito Trap is an absolute must-have.
Control the mosquito population by placing two or more of these traps around the yard. The scent, color, and shape attract biting females and kill 97 percent of mosquitos on contact!
These traps are designed to kill the most common mosquito species found in urban areas, including the Aedes aegypti and Aedes albopictus species.
Activated simply with only water, this product offers three (3) full months of mosquito vector control, so play on!
2. INZECTO Mosquito Chips
Mosquito larvae grow and thrive in standing water. Luckily, our Mosquito Chips put an end to it. Human, pet, and other animal-friendly, just one chip treats 5 gallons of water for 3 months! To activate it, simply place the chips into fountains, drains, or any other place that collects standing water, and voila!
What's more, this alternative to standard larvicides is long-lasting and has no impact on the animals or plants that might live in or drink from the treated water.
Contact us for more information on the incredible science behind this product!
3. INZECTO Saucers
A popular place for mosquitos to lay eggs is in the water that collects in the saucers beneath your plant and flower pots.

Replace your plant pot saucers with our INZECTO Saucers and pair them with our Mosquito Chips. The design of these revolutionary saucers helps disperse larvicide into the water that escapes your flowers to provide 3 months of protection.
Our INZECTO Saucers are available in these stunning colors:
Forest Green
Mediterranean Terra Cotta
Lime Green
Don't worry! Any passing cats or other animals that are tempted to drink from your flower pots won't be impacted by the larvicide in our sauces.
The Best Home Mosquito Control
When it comes to arming your family against these lethal insects, the best home mosquito control products are found at INZECTO. 
Interested in learning more about our revolutionary mosquito control products and systems? Read more about us here and discover how we can control the mosquito population near your home and family!
INZECTO Mosquito Trap Area Coverage